Icon Global Link (IGL) has been delivering safe quality, food business improvement solutions for over 15 years from Paddock to Plate. IGL prides itself on protecting businesses while simplifying tasks and keeping staff on the floor. Easier to manage because everyone is accountable and activities are visible. IGL have with Australian Independent Grocery Retailers developing REFSS (Retailers Electronic Food & Safety Systems) to manage their Food Safety, Workplace Health & Safety and Operations.

REFSS enables stores to protect their brand and their livelihood. It is a self-manage compliance platform based on legislative and brand requirements enabling stores to sell safe, quality food to their customers. REFSS eliminates paper, rationalises tasks, simplifies staff training, saves staff and management time and improves your customer's experience in your store.

How the Platform Works
​Stores tailor the system by configuring their departments and populating their lists; Staff/Suppliers/Hot Cooked Foods/Equipment (Fridges, Freezers, Coolrooms and Scales). They publish the store specific detail to the eLog template which then appear on their tablet. As they complete the detail and submit the elog on the tablet the data automatically appears in their dashboard. The dashboard enables the store to schedule elog sheets to have real-time visibility and accountability, as well as allows the store to manage corrective actions and email alerts.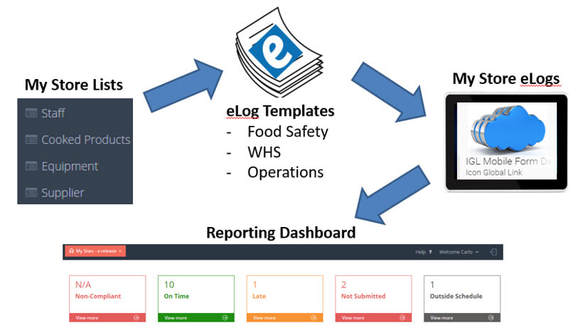 Bundled Risk System and Inclusions
Basic Bundle is underpinned by the Metcash Food Safety Plan which has been signed off by all state and territory governing bodies providing the electronic framework to manage all legislative requirements. The Full Bundle includes the WHS Module which is developed and supported by our partner AB Phillips, store walks designed by stores and operations teams and supplier compliance from some group stores. New eLogs supporting these systems are introduced each quarter.